The Library Fairy and Friends TV and Online Program!


 Development, sponsor and broadcast partners!

 Are you seeking to develop or sponsor a television or online series? Partner with us in the fairy realm, and we promise to keep out the trolls. The Library Fairy's programs have consistently reached #1 in downloads with affiliates and her fans. We've produced a weekly podcast and nifty pilot with kids, dynamic, live folklore storytellers from around the world, animal creatures and one spunky pixie.
Contact us for online links to the exclusive sizzle reel and pilot presentation + full color series treatment with cool pictures of the sets, costumes and characters. Program promotes children's literacy, diversity and self-esteem through innovative and interactive formats across cool platforms where stories, language and cultures come to life!
YOU (yes you!) can help kids become the hero of their own story…
<![if !vml]>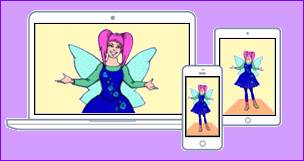 <![endif]>

<![if !vml]>

<![endif]>
An ancient tale is told of a punky pixie, who is a Library Fairy and a real winged gypsy.
She lives in children's books, in the very tales and fables,
That line library shelves and stack upon the tables.
So laugh a little, dance a little, rock and roll!
Magic always happens when stories are told…
Listen to the poem above (intro to the show)… complete with snoring fairy!

Join our professional clan of specialists in entertainment, education and folklore to bring multicultural folktales to life.

<![if !supportMisalignedColumns]>
<![endif]>

Pilot presentation of the show also on DVD format, please contact us!

Testimonials:
 "We've seen other storytelling concepts and yours is certainly an attractive one."
Kevin Morrison, COO at Family Communications<![if !vml]>

<![endif]>, Producer of Mister Rogers' Neighborhood.
"...this property is very educational and entertaining..."
Karen Barnes, V.P. of Programming at HIT Entertainment, Producer of The Wiggles and Bob the Builder
"My kids will love The Library Fairy! You are connecting literacy tools together: story language, phonemic awareness and vocabulary building, then humanizing it so the children can relate to it personally."
Vanessa Heller, MA, Elementary Education: Language and Literacy. Elementary teacher for 8+ years.
"This looks great...very professional and fun!"
Louise Jaffe, Member of SMC Board of Trustees and PTA leader for 10+  years.

Contact us to become a sponsor, partner or develop our properties.

Check out The Library Fairy's children's book

Support The Library Fairy on Patreon for fun perks and keep her storytelling podcast free and accessible to all!
Copyright 2022 by Showstoppers. All rights reserved. No images on this page, may be reproduced or transmitted by any means, including photocopy, recording or any informational storage or retrieval system, without permission in writing from the copyright owner.
###
____________________________________