The debut of The Library Fairy's new eco-friendly children's book THE MAGICAL TREE AND MUSICAL WIND was hosted by the renowned Los Angeles Times Festival of Books amongst authors like Julie Andrews and Henry Winkler. It's now available! ORDER NOW AND RECEIVE A FREE MP3 OF THE BOOK ON AUDIO!
Special wholesale price for soft cover book in US : $15.00 + $2.00 Shipping= $17.00
EMAIL US ABOUT DISCOUNTS FOR ORDERS OF 10 BOOKS OR MORE, SIGNED BOOKS OR HARDCOVER EDITIONS (MINIMUM ORDER OF 25).
Retailers, bookstores and booksellers: contact us if you would like to carry this book (volume discount applies).
____________________________________________________________________
<![if !vml]>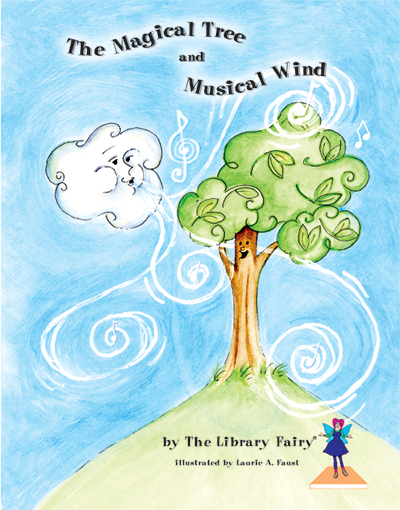 <![endif]>
"This subtly beautiful book takes children on a journey into nature, encouraging them to appreciate the natural world around them. As children lose themselves in their imaginations, they become the tree, feel the wind and move to its music. Reading Is Fundamental of Southern California works every day to improve literacy by helping children discover the magic of reading. How better to accomplish this than for children to read a magical book! "
Carol K. Henault, Executive Director, Reading Is Fundamental of Southern California
____________________________________
"As a children's drama and voice teacher, I found Miss Fairy's book to be a terrific tool for the classroom. Her beautiful story, as well as the charming illustrations, are very engaging. In addition, there are some excellent tips for making this book into an interactive experience, where the kids can use their voices and their bodies to create and act out the story. Miss Fairy's motto "Be the hero of your own story" is very inspirational!!! "
Viki Hilferty, Arts Educator


_______________________________________________________________________

Catch Ronnie the Book Bug in the pages!
Bonus features of the book include Tips for Telling: innovative secrets honed for years to enchant children with the magic of story... and how to convert the tale into lively story theater! Lesson plans for parents, teachers and educators are provided to discuss why trees enhance our world. For children ages 4-7 and up.
The Library Fairy® has partnered with TreePeople, an environmental nonprofit dedicated to helping nature heal our cities. A portion of the proceeds from book sales goes to this wonderful organization.
<![if !supportLineBreakNewLine]>
<![endif]>


The Library Fairy performs the touching story of J.M. Barrie's delightful tale of Peter Pan (slightly abridged for young ears). Tale told with finely crafted narration, sounds and enchantment, click below!
________________________________________________________________________